Victory for Fredric Aasbo in Canada on Motegi Technomesh D wheels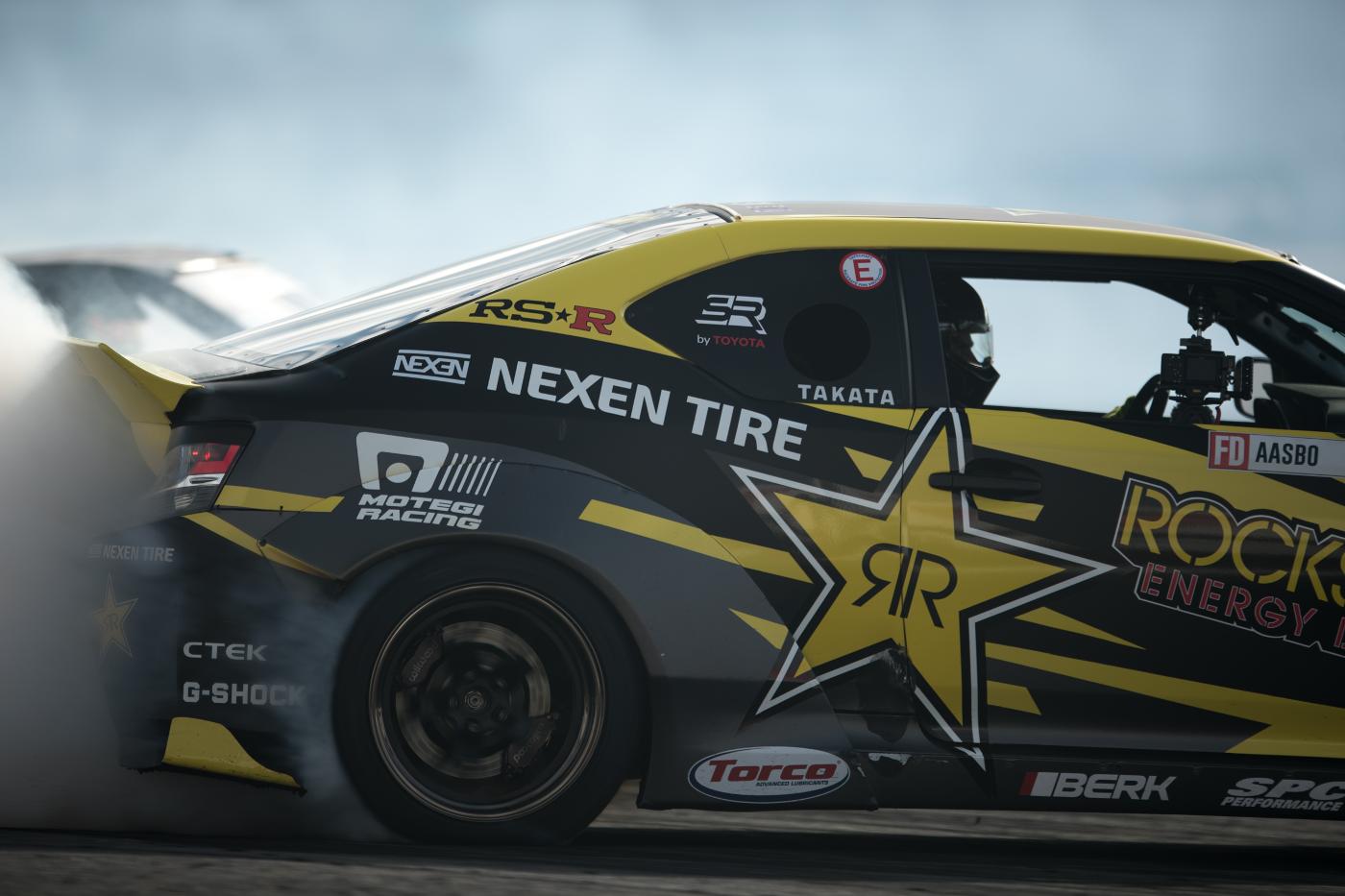 Victory for Fredric Aasbo in Canada
Rockstar Energy Drink / Nexen Tire SR by Toyota tC tops Round 5 podium
MONTREAL, Canada (July 16, 2016) – Fredric Aasbo topped the podium in Canada this weekend and, with three rounds remaining in the 2016 Formula Drift season, the defending champion is in a close fight for the points lead.
"To win here today, it took everything I've learned over these years, the best crew in the business, and our Rockstar Energy Drink / Nexen Tire SR by Toyota tC — which is a pretty fantastic creation," said Aasbo. "It feels like we've been struggling over the past few events, but now we're back."
Aasbo was an early favorite among the enthusiastic fans that packed the Montreal area Autodrome St-Eustache for Round 5 of the Formula Drift Championship. Although it was the first full points race for the series at the Canadian venue, Aasbo won there last season on the way to the World Championship. He didn't disappoint on his return.
A strong qualifying score earned Aasbo a bye run in first round competition and he battled past Pat Goodin in the Top 16 and Matt Coffman in the Great 8. The Final 4 between Aasbo and Odi Bakchis was close enough to split the judges, but Aasbo advanced to face down two-time champion Chris Forsberg for the event win.
The longtime rivals made for thrilling competition and fans let loose with thunderous applause as the two champions drifted inches from each other under the lights. With a powerful lead and flawless chase, it was Aasbo who took the battle and the event win — his second this year.
"The drivers put on such a good show here in Canada," said team owner Stephan Papadakis. "As the competition got into the Top 4, everyone was so close in ability and car setup that they really put on a clinic in how world class drifting is done."
As the season heads into the home stretch, a battle of champions has emerged at the top of the standings. Defending champ Aasbo is a slim three points behind 2010 title winner Vaughn Gittin Jr. and 27 points ahead of two-time champion Chris Forsberg. And all three are eager to win another series crown. "This is going to be one of the most crazy championship chases of all time," said Aasbo. "It's going to be one heck of a show all the way to Irwindale."
Next, teams travel to Monroe, Washington, August 5-6, for Throwdown at Evergreen Speedway. The championship then travels to Fort Worth, Texas, September 9-10, before wrapping up the year with the California season ender at Irwindale Speedway October 7 and 8.
Drifting is a high-skill, high-powered motorsport with an emphasis on car control skill. Drivers compete in knockout heats on a closed course, sliding sideways in trials judged on speed and style. With origins in Japan, it is one of the fastest growing forms of motorsport in the world.
In 2016, the series again offers live and on-demand online coverage on the Formula Drift Livestream with 360,000 views recorded during the Montreal event. Formula Drift also returns this season to CBS Sports Network for 20 half-hour television programs. The fast-paced action featuring bracketed head-to-head match-ups anchors the coverage.
ABOUT FREDRIC AASBO
Defending champion Fredric Aasbo returns to Papadakis Racing in 2016 for his sixth season with the team. The Rockstar Energy Drink driver is a fan favorite and championship contender. He has achieved more than 100 podium results and wins on three continents over the past decade of competition and is the defending Formula Drift World Champion and Formula Drift Pro Champion this year.
A two-time Nordic Drifting champion (2007, 2008), Aasbo made his U.S. debut at a global drifting invitational in 2008 and turned heads when he won the 2010 Formula Drift Rookie of the Year title. He is now a global contender and in 2016, he is running the full Formula Drift schedule as well as select events worldwide in Europe and in Asia. Originally from Ski, Norway, Aasbo now splits his time between his native country and Southern California.
ABOUT PAPADAKIS RACING
Papadakis Racing is the most winning drift team in history, with an unmatched record of three Formula Drift Championship titles. Team driver Fredric Aasbo won the 2015 Formula Drift title, while Papadakis Racing scored back-to-back championships with driver Tanner Foust in 2007 and 2008.
Known as a professional organization that develops innovative and reliable competition vehicles that win championships, the Rockstar Energy Drink / Nexen Tire SR by Toyota tC is the team's latest competition build.
Team owner Stephan Papadakis is a legend of sport-compact racing who began building his reputation in the 1990s with the first front-wheel-drive, tube-chassis drag car in the U.S. Before its successes in drifting, the team earned multiple records and championships in the drag racing, turning in elapsed times and trap speeds previously thought unattainable in front-drive drag cars. Papadakis' successes in front-wheel drive were matched by his efforts in rear-wheel drive when he campaigned a Civic that became only the fifth car to join the NHRA's Sport Compact 200 MPH club.
PAPADAKIS RACING IS PARTNERED WITH
Rockstar Energy Drink (www.rockstarenergy.com); Nexen Tire (www.nexentireusa.com); SR By Toyota (www.scionracing.com); Motegi Racing Wheels (www.motegiracing.com); AEM Electronics (www.aemelectronics.com); Berk Technology (www.berktechnology.com); SPC Performance (www.spcperformance.com); Gatebil Event (www.gatebil.no) RS-R (www.rs-r.com); Torco Advanced Lubricants (www.torcousa.com); BorgWarner (www.borgwarner.com); G-Shock (www.gshock.com)
Fredric Aasbo drove to victory in Canada this weekend. (PHOTO LEFT: SR by Toyota)
ABOUT ROCKSTAR
Rockstar Energy Drink is designed for those who lead active lifestyles — from athletes to rockstars. Available in over 25 flavors at convenience and grocery outlets in more than 30 countries, Rockstar supports the Rockstar lifestyle across the globe through action sports, motor sports, and live music. For more information visit www.RockstarEnergy.com.